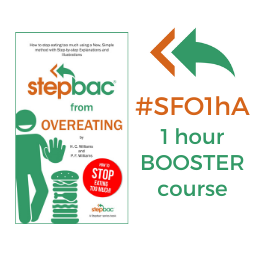 Course number: #SFO1hA
Name: Stepbac from Overeating booster course:
Duration: 1 hour in total
Price: €10 per person
Max group size: 6 persons
Who's this course for: People who have finished reading Stepbac from Overeating book and want extra support in their new life as a Stepbaccer
Available from: from Monday 18th May onwards
#SFO1hA Course overview:
Our 1-hour small group booster course for people who have finished reading our Stepbac from Overeating book but who feel they would benefit from some extra support and encouragement to help them as they begin their new life as a healthy and happy Stepbaccer. On this 1-hour course you will have the chance to share your reading experience and your new non-overeating life with your Stepbac coach. You can ask questions and get advice about the Stepbac from Overeating method. This course is also for people who initially stopped overeating after reading the book, but then found themselves falling back into old overeating habits again. That can happen and we can help you with that too.
Course dates: Thursday (booking required)
Course time: 17-18 Spanish time CET
Breaks: none
Payment: full payment in advance by PayPal or Patreon
What you need: You will need to have read the book Stepbac from Overeating. You will need a laptop PC, a tablet or iPad and a good Internet connection. Also find a quiet indoor space with no distractions when attending course. The instructor will be online 20 minutes before the start of the first class starts to check connection speeds of course participants.
Course language: English (good level required)