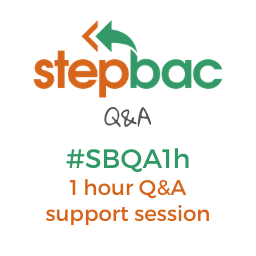 Course number: #SBQA1h
Name: Free Q&A Support Session for Stepbac readers
Duration: 1 hour in total
Price: FREE
Max group size: 8 persons
Available from: Monday 18th May onwards
Who's this course for: People who have read a Stepbac book but have questions.
Course overview:

#SBQA1h 1 hour free Stepbac support Q&A session for Stepbac readers. Here the authors answer questions from readers to support them as much as possible. It's free to attend ( limited number of sessions per person) but booking is required and the max number of participants is 8 so that everyone gets their questions answered.
Course dates: every Tuesday & Thursday (booking required)
Course time: 13-14.00 Spanish time CET
Breaks: none
Payment: Free.
What you need: You will need a laptop PC or a tablet or iPad and a good internet connection. Also a quiet indoor space with no distractions. The instructor will be online 20 minutes before the start of the first class starts to check connection speeds of course participants.
Course language: English (good level required)