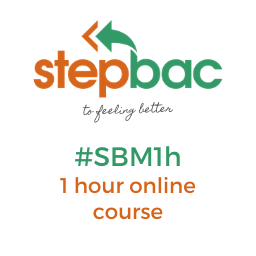 Course number:
#SBM1h
Name
: Stepbac Method introduction course
Duration
: 1 hour in total
Price
: €10 per person
Max group size
: 6 persons
Available from

:
Tue 19th May onwards
Who's this course for
: People who have not read Stepbac books but would like to know more about the Stepbac method before reading.
Course overview:

1 hour intensive general introduction course which explains the Stepbac philosophy, and the "science" in the Stepbac method. We explain how people are tricked into unhealthy lifestyles and trapped into a lifetime of unhealthy habits and cravings. We explain how Stepbac method can be used to replace unhealthy habits. This course includes e-book edition of a Stepbac book of the participants'choice, which we recommend they read after the course. Participants will be well prepared to read and understand Stepbac books of their choice after this course. To stop smoking, overeating or overusing smartphones follow the Stepbac method instructions in the respective books.
Course dates: every Tuesday & Thursday (booking required)
Course time: 11-12.00 Spanish time CET
Breaks: none
Payment: full payment in advance by PayPal or Patreon
What is included: Includes a free Stepbac ebook for Kindle or ereaders. (We can help you install if you are not familiar with ereaders)
What you need: You will need a laptop PC or a tablet or iPad and a good internet connection. Also a quiet indoor space with no distractions. The instructor will be online 20 minutes before the start of the first class starts to check connection speeds of course participants.
Course language: English (good level required)