Ultra-processed foods are food and drink products that have undergone specified types of food processing.
When one talks of Ultra-processed food one is usually referring to food made by global and very large food companies who are often called 'Big food' corporations.
Ultra-processed foods are designed to be 'convenient, eaten on the go, hyperpalatable and appealing to consumers, and, most importantly, the most profitable segment of Big Food companies' portfolios because of these foods' low-cost ingredients'.
In other words, ultra-processed food is generally low grade food that is cheap to make and generates big profits for big food companies. This is the exact kind of unhealthy and addictive food that makes people overeat and tricks them into eating when they are not hungry.
You can learn how this kind of food affects your brain and body in the popular book "Stepbac from Overeating" and you can learn how to take a "Stepbac" and take back control of natural eating habits.
The ebook edition of Stepbac from Overeating is free.
How to buy paperback or download free ebook edition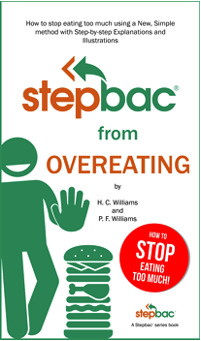 Download and share
FREE ebook
editions of "Stepbac
®
from Overeating" for Ereaders and Kindle and ereader and Kindle apps, on our
free ebook download
page.
The
paperback
edition of "Stepbac
®
from Overeating" is available to buy at non-profit price on Amazon
⬤
Paperback edition Amazon.com

⬤
Paperback edition Amazon.co.uk
Stepbac
®
is supported only by donations and we don't make a profit on the paperback edition, so kindly consider making a small donation after you have read this book if you feel it helped you. Thank you.
DISCLAIMER.
Individual results may vary and Stepbac is cognitive behavioural method that requires some willpower from reader.
Copyright © 2020 - All content copyright Stepbac® - unless otherwise stated

#stepbacmethod #freebooks #healthyliving
Related articles
Stepbac from Overeating book
About
Stepbac®
method