Coronavirus: protect yourself better by boosting your immune system.in a natura way Your lifestyle is very a important factor for your health and for your immune system.
Your lifestyle affects how well your immune system is able to protect your body from attack by germs, viruses, and even chronic diseases.
A healthy lifestyle helps create a strong immune system.
A healthy lifestyle can be achieved by replacing unhealthy lifestyle habits with more healthy ones.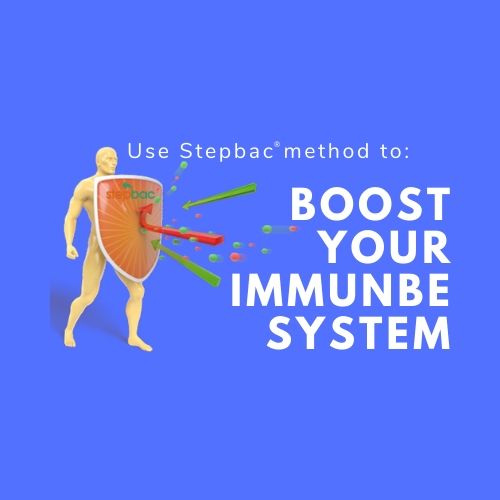 That's where Stepbac
®
can help. It is a simple method to replace unhealthy habits with healthy ones.
Learning how to Stepbac
®
from bad habits could be a key factor to help you improve and strenghen your body's immune system., so that it can better fight viruses.
Stepbac
®
is not a diet or a fitness program - it's a simple a way to replace unhealthy and unnatural habits with natural and healthy habits.
The renowned Harvard Health Publishing of Harvard Medical school has an excellent
article
about the human immune system.
Their article includes a list of recommendations for how to boost the immune system.
The list highlights the following:
not smoking
a food diet rich in fruit and vegetables
maintaining a healthy weight
moderate exercise
limiting alcohol
good quality sleep
good personal hygiene
minimizing stress
The Stepbac
®
method can help with several of these recommendations.
Stepbac® from Smoking
can help you quit smoking, It's available now as an e-book or paperback
Stepbac® from Overeating
can helpt you maintain a natural and healthy weight. It's available now as an e-book or paperback
Stepbac
®
from Smartphones can help you kick your smartphone addiction. It's available in March as an e-book or paperback.
What is the immune system
The body's immune system is a complicated set of interacting elements in our bodies, that helps to keep us healthy by shieding us from disease.
You could think of it as a sort of "invisible shield" that protects your body against attack
The human immune system works with in conjunction with every other system in the body, which means that the immune system is not something that can be turned up or down by a single action or change - and it's not something that can be fixed with medication or an operation.
The immune system is strong when your general level of health is high - and weak when you level of health is low.
Having a strong immune system means that it's easier to stay healthy and vice versa if you have a weak immune system
In other words, if you are healthy, you have a good immune system and are better protected from getting sick.
If you want to strengthen or boost your immune system then you must improve your general health.
In these times of pandemics like the Coronavirus it's very important to have a strong immune system.
if you are unlucky and infected by the covid19 virus then a strong immune system gives you a better chance of survival
This is why sadly the people most at risk from the covid19 virus are people with a weak immune system, either from old age or bad health.
A strong immune system is not only important during outbreaks and virus like Sars and Coronavirus - it strong immune system helps protect you all the time from common illness like a cold, influenza and other minor diseases.
When there are global heath scares like the current coronavirus Covid-19 pandemics it can become more important to have a strong immune system becuase some virus.
Related links
About
Stepbac®
method

How to buy paperback or download free ebook edition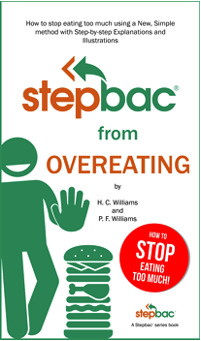 Download and share
FREE ebook
editions of "Stepbac
®
from Overeating" for Ereaders and Kindle and ereader and Kindle apps, on our
free ebook download
page.
The
paperback
edition of "Stepbac
®
from Overeating" is available to buy at non-profit price on Amazon
⬤
Paperback edition Amazon.com

⬤
Paperback edition Amazon.co.uk
Stepbac
®
is supported only by donations and we don't make a profit on the paperback edition, so kindly consider making a small donation after you have read this book if you feel it helped you. Thank you.
DISCLAIMER.
Individual results may vary and Stepbac is cognitive behavioural method that requires some willpower from reader.
Copyright © 2020 - All content copyright Stepbac® - unless otherwise stated