You are not alone in feeling unhappy. Many people all over the world feel miserable. In fact, there are annual reports that measure the world's angriest and saddest countries.
At Stepbac
®
we believe that happiness is linked to health and we believe that a major factor that leads to unhappiness is bad health.
It actually doesn't take much to be happy, but in modern life we are constantly being bullied with "perfect lifestyle" suggestions which cause our health to deterioate.
And bad health contributes to bad happiness.
"Stepbac
®
is a series of self-improvement books based on a new and simple Stepbac
®
method to change unhealthy lifestyle choices and take back control of one's health and well-being.
Being healthy is a cornerstone of being happy.
The Stepbac
®
method is a simple way to take a personal "step back" to a time in life when you had a healthier and happier lifestyle.
Stepbac
®
is a series that over the coming years will provide answers to many questions but fundamental to happiness is health.
People in good health have a better chance of feeling happy on a daily basis.
Reducing overweight is a major boost to health and happiness and we recommend you start by reading "Stepbac
®
from Overeating" - it will help you take back control of your weight by teaching you a simple way to change your daily overeating habits and take a "Stepbac
®
" to your natural and healthy weight.
How to buy paperback or download free ebook edition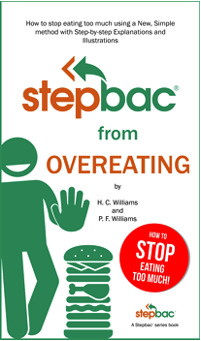 Download and share FREE ebook editions of "Stepbac® from Overeating" for Ereaders and Kindle and ereader and Kindle apps, on our free ebook download page.

The paperback edition of "Stepbac® from Overeating" is available to buy at non-profit price on Amazon

⬤ Paperback edition Amazon.com

⬤ Paperback edition Amazon.co.uk

Stepbac® is supported only by donations and we don't make a profit on the paperback edition, so kindly consider making a small donation after you have read this book if you feel it helped you. Thank you.

DISCLAIMER.
Individual results may vary and Stepbac is cognitive behavioural method that requires some willpower from reader.
Copyright © 2020 - All content copyright Stepbac® - unless otherwise stated